Sede:
Catania, AKOS Diagnostica Oculare, via G. Leopardi 125
For info and appointments Tel 010.464.855 or 0141.721.427
Go to Google Maps

On the occasion of participation in the VI˚ International Ophthalmic and Ophthalmoplastic Training Courses, which will be held during the First International Congress on Laser Vitreolysis of floaters, Scott Geller will be in Italy and gave the offer is available to visit those who suffer from floaters and, if necessary, with the laser to vaporize the Floaters in the Vitreous.
Scott Geller, a Board Certified Ophthalmologist, pioneered and perfected laser treatment of eye floaters.He have founded the World's premier Eye Floater Specialty Center: The South Florida Eye Foundation / South Florida Eye Clinic has been treating eye floaters for 26 years. Dr. Geller has the largest and longest series of patients treated with laser in the world.
He presented his first series of successful cases at the International Congress of Ophthalmology in Singapore, 1989, and has presented his data to other Ophthalmologists at conferences in the US, Europe, and Asia about treating eye floaters with laser.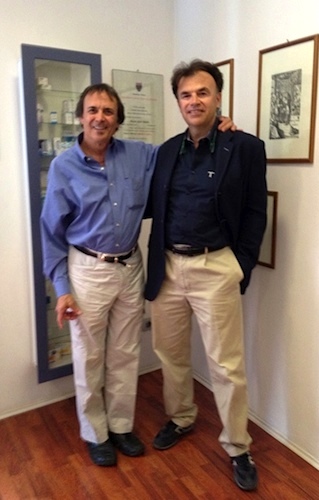 I learned a lot from Scott and I had the honor and pleasure to organize in 2012 and in 2013 the first two events in my studio in Nizza Monferrato.
Many patients have asked me to organize this year a meeting with my "Maestro" and Scott welcomed with enthusiasm the invitation.
The visits and any treatments will be held in Catania at the Diagnostic Center AKOS, Via G. Leopardi, 125, Sunday and Monday, October 5/6, 2014.
For more information you can write to my email address: carlo.orione@orioneye.com
For an appointment phone calls to my Secretaries to the numbers 010.464.855 or 0141.721.427